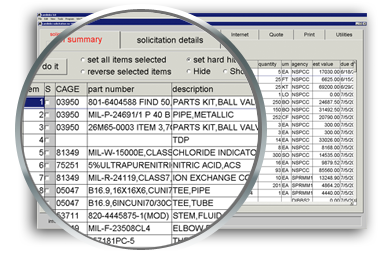 Lamlinks Bid Matching
A bid matching service is a process whereby a search is conducted on an ongoing basis of all federal solicitations in order to identify and select the ones that match a customer's sales capabilities. At Lamlinks, we use a variety of search techniques to ensure that no possible match is overlooked and that every item from a customer's award history is identified.
Products
Lamlinks Corporation offers a comprehensive line of products to meet every need in Government Bidding.

Browse our product line-up and request a demo or a free trial where applicable and start winning contracts with Lamlinks.
WAWF Solutions
Tired of dealing with WAWF? The LamlinksPro Contract module allows you to create and submit the same paperwork with just a few keystrokes. You can also manage your contracts, print labels, utilize RFID tags and interface to VSM with the push of a button. Click here for a demo video or call for more information (323) 469-4560.
TDP Library
Need a drawing but it's not posted to C-Folders? Forget to download the TDPs before the solicitation closed? Don't wait another second. Get the latest drawings directly from Lamlinks using our TDP Library service. We offer three tiers of service so you can pick the one that's right for you. Try a free trial today.