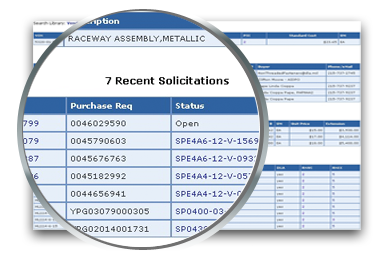 Lamlinks Online Library
Extensive, comprehensive, fast, well designed, are just some of the words used to describe our Online Library. This low cost and convenient way of researching government contracts just got better with a total redesign of the site to optimize results for people who want to do business by people who know the business.
Products
Lamlinks Corporation offers a comprehensive line of products to meet every need in Government Bidding.

Browse our product line-up and request a demo or a free trial where applicable and start winning contracts with Lamlinks.
TDP Library
Need a drawing but it's not posted to C-Folders? Forget to download the TDPs before the solicitation closed? Don't wait another second. Get the latest drawings directly from Lamlinks using our TDP Library service. We offer three tiers of service so you can pick the one that's right for you. Try a free trial today.
Quoting
The Lamlinks Quoting module allows Bid-Matching clients to create and submit government pricing quickly and easily. Setup takes about five minutes and once complete allows you to generate quotes with just a few keystrokes. LamlinksPro clients will build an NSN-based pricing history and have access to metrics and a cost calculator.