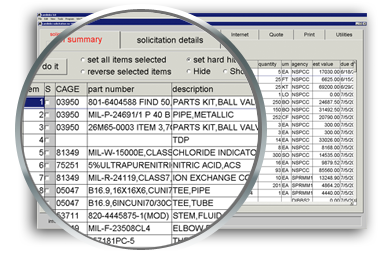 Lamlinks Bid-Matching
A bid-matching service is a process whereby a search is conducted on an ongoing basis of all federal solicitations in order to identify and select the ones that match a customer's sales capabilities. At Lamlinks, we use a variety of search techniques to ensure that no possible match is overlooked and that every item from a customer's award history is identified.
Products
Lamlinks Corporation offers a comprehensive line of products to meet every need in Government Bidding.

Browse our product line-up and request a demo or a free trial where applicable and start winning contracts with Lamlinks.
Part Listing Service
Click here to sign up.

Looking for a new way to broadcast your procurement capabilities to the world? The Parts Listing Service provides the tools to expand business by displaying your parts on our Online Parts Library. Whether you're a manufacturer looking to exhibit your capabilities, a distributor seeking new customers or simply looking to advertise excess inventory, this service directly links you with potential customers.
Purchasing
LamlinksPro's elegance lies in its database by eliminating double-entry. Witness the simplicity in the Purchasing and Warehouse module where you can create a PO with just a few keystrokes. By recording vendor responses to your RFQs, the LamlinksPro database already has vendor, item, pricing and delivery information. All you need to do is pick who you want to buy the part from and push print to create a purchase order.