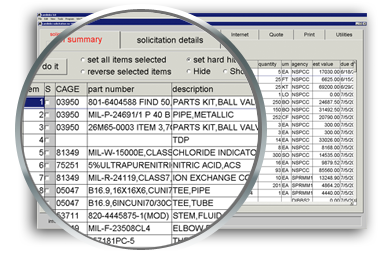 Lamlinks Bid-Matching
A bid-matching service is a process whereby a search is conducted on an ongoing basis of all federal solicitations in order to identify and select the ones that match a customer's sales capabilities. At Lamlinks, we use a variety of search techniques to ensure that no possible match is overlooked and that every item from a customer's award history is identified.
Custom Reports
We build reports that are tailored to our customer's specifications. We have extensive historical data and database experience to create reports from government data files. Examples include analysis of procurement for a stock class or item by year, a summation of the amount of money spent for an item or class of items, and research relative to a manufacturer's sales.
WAWF Solutions
Tired of dealing with WAWF? The LamlinksPro Contract module allows you to create and submit the same paperwork with just a few keystrokes. You can also manage your contracts, print labels, utilize RFID tags and interface to VSM with the push of a button. Click here for a demo video or call for more information (323) 469-4560.
Support
Lamlinks Corp. offers unparalleled customer service. Need an answer? Call us (323) 469-4560. You'll never be greeted by an automated phone message system. We'll help you any way we can. Messages and emails are always responded to in a timely manner.

In addition, our online knowledge base and support can be accessed everyday 24 hours a day.