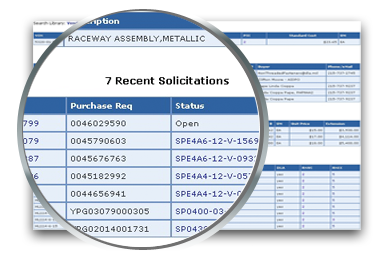 Lamlinks Online Library
Extensive, comprehensive, fast, well designed, are just some of the words used to describe our Online Library. This low cost and convenient way of researching government contracts just got better with a total redesign of the site to optimize results for people who want to do business by people who know the business.
Custom Reports
We build reports that are tailored to our customer's specifications. We have extensive historical data and database experience to create reports from government data files. Examples include analysis of procurement for a stock class or item by year, a summation of the amount of money spent for an item or class of items, and research relative to a manufacturer's sales.
Part Listing Service
Click here to sign up.

Looking for a new way to broadcast your procurement capabilities to the world? The Parts Listing Service provides the tools to expand business by displaying your parts on our Online Parts Library. Whether you're a manufacturer looking to exhibit your capabilities, a distributor seeking new customers or simply looking to advertise excess inventory, this service directly links you with potential customers.
Products
Lamlinks Corporation offers a comprehensive line of products to meet every need in Government Bidding.

Browse our product line-up and request a demo or a free trial where applicable and start winning contracts with Lamlinks.