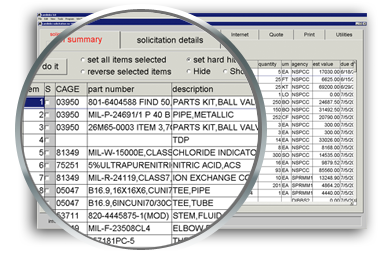 Lamlinks Bid-Matching
A bid-matching service is a process whereby a search is conducted on an ongoing basis of all federal solicitations in order to identify and select the ones that match a customer's sales capabilities. At Lamlinks, we use a variety of search techniques to ensure that no possible match is overlooked and that every item from a customer's award history is identified.
Part Listing Service
Click here to sign up.

Looking for a new way to broadcast your procurement capabilities to the world? The Parts Listing Service provides the tools to expand business by displaying your parts on our Online Parts Library. Whether you're a manufacturer looking to exhibit your capabilities, a distributor seeking new customers or simply looking to advertise excess inventory, this service directly links you with potential customers.
Quoting
The Lamlinks Quoting module allows Bid-Matching clients to create and submit government pricing quickly and easily. Setup takes about five minutes and once complete allows you to generate quotes with just a few keystrokes. LamlinksPro clients will build an NSN-based pricing history and have access to metrics and a cost calculator.
Bid-Matching Services
Don't waste time scouring the internet for sales opportunities. Let us do the leg work. You provide the search criteria and we'll return a daily list of all open federal solicitations along with PH, MCRL, PID and a whole wealth of relevant data (DIBBS, FedBizOps, TACOM, NECO, REDSTONE are a few of the sights we pull from). Try Lamlinks3 for free. If you're looking for customizable features, automation or a total business solution LamlinksPro offers exceptional service.