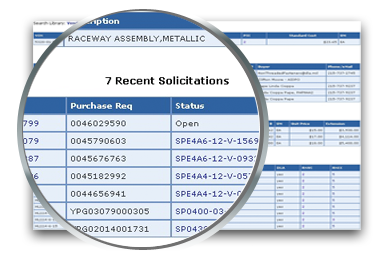 Lamlinks Online Library
Extensive, comprehensive, fast, well designed, are just some of the words used to describe our Online Library. This low cost and convenient way of researching government contracts just got better with a total redesign of the site to optimize results for people who want to do business by people who know the business.
WAWF Solutions
Tired of dealing with WAWF? The LamlinksPro Contract module allows you to create and submit the same paperwork with just a few keystrokes. You can also manage your contracts, print labels, utilize RFID tags and interface to VSM with the push of a button. Click here for a demo video or call for more information (323) 469-4560.
Support
Lamlinks Corp. offers unparalleled customer service. Need an answer? Call us (323) 469-4560. You'll never be greeted by an automated phone message system. We'll help you any way we can. Messages and emails are always responded to in a timely manner.

In addition, our online knowledge base and support can be accessed everyday 24 hours a day.
Quoting
The Lamlinks Quoting module allows Bid-Matching clients to create and submit government pricing quickly and easily. Setup takes about five minutes and once complete allows you to generate quotes with just a few keystrokes. LamlinksPro clients will build an NSN-based pricing history and have access to metrics and a cost calculator.