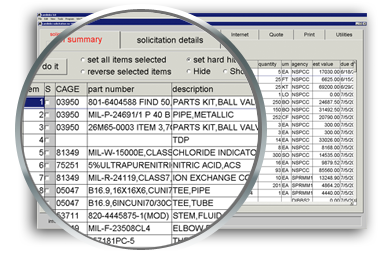 Lamlinks Bid-Matching
A bid-matching service is a process whereby a search is conducted on an ongoing basis of all federal solicitations in order to identify and select the ones that match a customer's sales capabilities. At Lamlinks, we use a variety of search techniques to ensure that no possible match is overlooked and that every item from a customer's award history is identified.
Custom Reports
We build reports that are tailored to our customer's specifications. We have extensive historical data and database experience to create reports from government data files. Examples include analysis of procurement for a stock class or item by year, a summation of the amount of money spent for an item or class of items, and research relative to a manufacturer's sales.
Purchasing
LamlinksPro's elegance lies in its database by eliminating double-entry. Witness the simplicity in the Purchasing and Warehouse module where you can create a PO with just a few keystrokes. By recording vendor responses to your RFQs, the LamlinksPro database already has vendor, item, pricing and delivery information. All you need to do is pick who you want to buy the part from and push print to create a purchase order.
TDP Library
Need a drawing but it's not posted to C-Folders? Forget to download the TDPs before the solicitation closed? Don't wait another second. Get the latest drawings directly from Lamlinks using our TDP Library service. We offer three tiers of service so you can pick the one that's right for you. Try a free trial today.