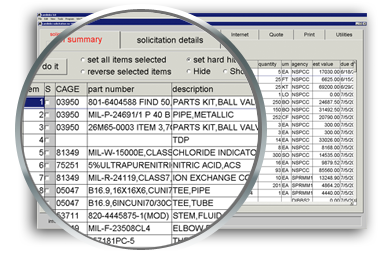 Lamlinks Bid-Matching
A bid-matching service is a process whereby a search is conducted on an ongoing basis of all federal solicitations in order to identify and select the ones that match a customer's sales capabilities. At Lamlinks, we use a variety of search techniques to ensure that no possible match is overlooked and that every item from a customer's award history is identified.
Bid-Matching Services
Don't waste time scouring the internet for sales opportunities. Let us do the leg work. You provide the search criteria and we'll return a daily list of all open federal solicitations along with PH, MCRL, PID and a whole wealth of relevant data (DIBBS, FedBizOps, TACOM, NECO, REDSTONE are a few of the sights we pull from). Try Lamlinks3 for free. If you're looking for customizable features, automation or a total business solution LamlinksPro offers exceptional service.
Custom Reports
We build reports that are tailored to our customer's specifications. We have extensive historical data and database experience to create reports from government data files. Examples include analysis of procurement for a stock class or item by year, a summation of the amount of money spent for an item or class of items, and research relative to a manufacturer's sales.
Products
Lamlinks Corporation offers a comprehensive line of products to meet every need in Government Bidding.

Browse our product line-up and request a demo or a free trial where applicable and start winning contracts with Lamlinks.