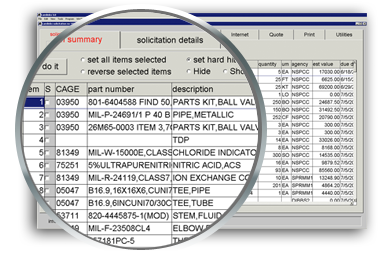 Lamlinks Bid-Matching
A bid-matching service is a process whereby a search is conducted on an ongoing basis of all federal solicitations in order to identify and select the ones that match a customer's sales capabilities. At Lamlinks, we use a variety of search techniques to ensure that no possible match is overlooked and that every item from a customer's award history is identified.
WAWF Solutions
Tired of dealing with WAWF? The LamlinksPro Contract module allows you to create and submit the same paperwork with just a few keystrokes. You can also manage your contracts, print labels, utilize RFID tags and interface to VSM with the push of a button. Click here for a demo video or call for more information (323) 469-4560.
Bid-Matching Services
Don't waste time scouring the internet for sales opportunities. Let us do the leg work. You provide the search criteria and we'll return a daily list of all open federal solicitations along with PH, MCRL, PID and a whole wealth of relevant data (DIBBS, FedBizOps, TACOM, NECO, REDSTONE are a few of the sights we pull from). Try Lamlinks3 for free. If you're looking for customizable features, automation or a total business solution LamlinksPro offers exceptional service.
Products
Lamlinks Corporation offers a comprehensive line of products to meet every need in Government Bidding.

Browse our product line-up and request a demo or a free trial where applicable and start winning contracts with Lamlinks.